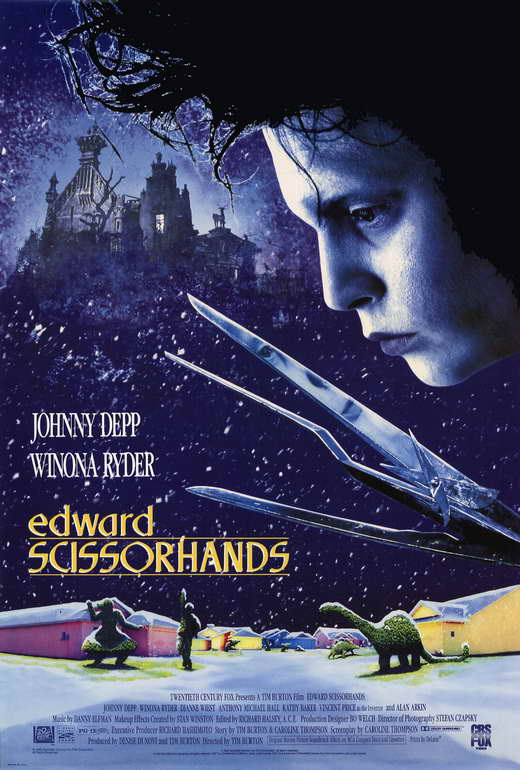 Figure 1: Movie poster
This is definitely one of the most iconic and all time classic of the "Tim Burton" directed films. The film its self is an extremely well directed and executed fairy tale set in the 60's with an outcast falling in love with a beautiful lady just like many other fairy tales. Tim Burton adds his own twist on the incredibly over done fairy tale love stories by making it quirky with the lead role of Edward (Johnny Depp) humorous in an awkward way. The story unfolds as a stereo typical 60's american women discovers Edward up in the desolate castle on top of the mountain and decides to do the typical white american Christian thing to do and take him home and look after him.
Figure 2: Shot showing the matt painting of the castle behind the movie set
One of the key features that stands out whilst watching "Edward scissor hands" is the amazing detail in the visual effect. The production design for this film is simply spectacular from how they have included an extremely detailed matt painting in the background of a stereo typical 1960's suburban town, These two things are both extremely miss matched and contrasting yet during the film it looks like its real. Roger Ebert also agrees with the statement by commenting saying that "

Burton uses special effects and visual tricks to create sights that have never been seen before"

(R, Ebert, 1990)
Figure 3: still shot of Edward
A lot of people are to believe that this is one of Tim Burton's best films and is the most unique to his style. There are many similarities between Edward and Tim Burton himself, there is allot of influence in the way the character of Edward interacts and looks different to normal society based on the creator of the film. Alan Jones comments on this saying
"

Humanoid Edward's inability to touch the things he loves because of his razor-sharp fingers makes for potent symbolism of the highest mythic order" (A, Jones 1990)
Figure 4: Still shot of Edward and his inventor
It is extremely clear that throughout this film Tim Burton has been heavily influenced in many film in the horror genre like "
The Cabinet of Dr Caligari"
and
fairy tales like "La Belle et la Bete"The guardian comment on this statement by saying "
Burton pulls inspiration from Chuck Jones cartoons as well as classic horror films" (Guardian 1990). Overall the film is well directed and produced with a brilliant production team to bring this fairy tale to life.
Illustration List
Figure 1: http://images.moviepostershop.com/edward-scissorhands-movie-poster-1990-1020280845.jpg
Figure 2: http://fogsmoviereviews.files.wordpress.com/2012/05/edward_scissorhands_hill.png
Figure 3: http://www.radiotimes.com/film/rv9n/edward-scissorhands
Figure 4: https://marciokenobi.files.wordpress.com/2012/12/edward-scissorhands-2.jpg
Bibliography
Roger Ebert (1990): http://www.rogerebert.com/reviews/edward-scissorhands-1990
A Jones (1990): http://www.radiotimes.com/film/rv9n/edward-scissorhands
Guardian (1990): http://www.theguardian.com/film/2010/oct/21/edward-scissorhands-burton-fantasy